Note: I give full credit to Happinessu for the picture
Union Hospital, or more widely call Kin Hospital is the most Likely place that the infection spread from. The chances are actually pret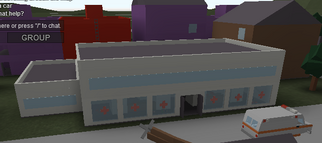 ty small that it spread from Trinity HQ due to Trinity's location. It would be easy to contain the virus if it spread from there. The chance of it spreading from Kin, however is a good chance due to it begin in the mid-south area of the map. Union Hospital is probably where it spread from due to P-0 's writing on the walls. Union Hospital is one of 2 hospitals on the map, the other being in Vernal. The name of that one is unkown.
Ad blocker interference detected!
Wikia is a free-to-use site that makes money from advertising. We have a modified experience for viewers using ad blockers

Wikia is not accessible if you've made further modifications. Remove the custom ad blocker rule(s) and the page will load as expected.