RPK

Damage

6 bodyshots, 5 headshots

Magazine Size
30 (Standard)/ 40 (Extended)/ 75 (Drum)
Caliber

7.62×39mm Caliber

Effective Range

Medium

Recoil

Moderate

Firing Modes

Semi-Auto, Auto

Reload Time

2.3 seconds

Noise

Loud

Gun Rarity

Uncommon-Rare

Ammo Rarity

Uncommon

Attachments

Barrel= Yes

Underbarrel= Yes

Sights= Yes

Wikipedia
Overall
ANNOUNCEMENT: ALL THE GUNS IN APOCALYPSE RISING ARE CURRENTLY BEING REMADE. AFTER THEY ARE REMADE AND PUT IN THE GAME, THESE STATS WILL BE INACCURATE!
The Ruchnoy Pulemyot Kalashnikova (Kalashnikov hand-held machine gun) is a rare light machine gun (LMG). It works best at medium range and isn't particularly accurate but its DPM is just ridiculous. However the ammo count does lack a bit unless you load it with a 75 round drum. The ammo seems to be as rare as the gun. A con for this weapon is that it is unable to take underslung attachments, while it is able to utilize optics and suppresors.
Use this rifle as you would with Mk 48s and M249s, find someone, point your gun at them, get closer for a better shot and unload your gun. If you are unfortunate enough to meet a group of people who want your loot, you can wait for them to get close and pop out at the right time and perform the spray and pray. Just watch out on your ammo count as you may need to reload in the middle of a firefight, which can cost you your life and efforts.
History
The RPK (Ruchnoy Pulemyot Kalashnikova) is a Soviet designed 7.62×39mm light machine gun. It was made to help improve the armory of the Chinese Red Army, intended to replace the RPD. It was released parallel to the AKM and became popular with the Vietcong during the Vietnam War who used this against the American M16 and M14. The gun is still popular among many countries such as Vietnam and North Korea. There are currently 6 variants of the RPK.
Overview
The RPK is very similar to the AK-47/AKM as it is a direct variant, the only difference being that the RPK has a longer barrel. It can switch between fully automatic and semi-automatic fire. It is recommended to keep it at full auto, as it is a terrible sniping weapon and semi auto would hinder its close range effectiveness, which is its greatest asset.  The RPK is most effective at medium range, but sometimes it can be outclassed by certain medium range weapons, like the PPSH-41. The RPK accepts 30 (Standard)/40 (Extended)/and 75 (Drum) Round Magazines (7.62x39mm) The ammo for the gun is a bit uncommon, as it spawns in military spawns, along where the RPK spawns. This weapon can be be found in any of the medium or hight-tier loot locations. (i.e. all of the major cities, mili tents, heli crashes, ect) It is generally considered to be the worst of the LMGs (probably due to its comparatively atrocious ADS accuracy).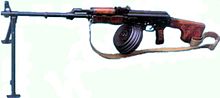 Ad blocker interference detected!
Wikia is a free-to-use site that makes money from advertising. We have a modified experience for viewers using ad blockers

Wikia is not accessible if you've made further modifications. Remove the custom ad blocker rule(s) and the page will load as expected.