The town of Mavren is a small town introduced in the latest update of Apocalypse Rising.
(Page not finished yet, stay tuned)
Overview
Mavren is a small town, with around 15-20 buildings. It includes a military tent and a water tower, both spawning loot at the bottom and ascendable. Because of its new introduction to the game, it may be best to visit it later on when players and bandits alike have visited it.
Trivia
This was introduced to Reborn on March 20th, 2016 along with the town of Flint, a bigger military airfield and a crane in Kin.
Gallery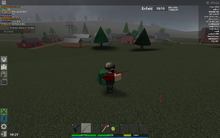 Ad blocker interference detected!
Wikia is a free-to-use site that makes money from advertising. We have a modified experience for viewers using ad blockers

Wikia is not accessible if you've made further modifications. Remove the custom ad blocker rule(s) and the page will load as expected.