M4A1 Carbine

Damage

6 body shots, 5 head shots

Magazine Size
30 (standard), 50 (extended), 100 (drum).
Caliber

5.56 x 45mm NATO

Effective Range

Mid-range,Long range

Rate of Fire

600 RPM

Recoil

Low-Medium

Firing Modes

Semi-automatic/Automatic/Burst

Reload Time

4 seconds

Noise

Moderate

Gun Rarity

Semi-Rare

Ammo Rarity

Uncommon spawn at military places, but, recently, a lot of players found that at civilian buildings.

Spawn Locations

Anywhere due to new update

Attachments

Barrel: Yes

Under barrel: Yes

Sights: Yes

Wikipedia
The M4A1 Carbine is a selective-fire primary STANAG weapon in Apocalypse Rising.
History
The M4A1 Carbine was developed by Colt, who produced the famous M1911, and its model was derived from the M4 Carbine, which was in turn derived from the M16, which was in turn derived from the original AR-15 developed by Eugene Stoner. The carbine serves with the US armed forces. The M4A1 has seen combat in Iraq, Afghanistan, Somalia, and recently, Yemen.
Overview
The M4A1 Carbine is not very common in Apocalypse Rising. It is typically found in Union Square, military tents, and crashed helicopters. It can handle all attachments. The M4A1 uses 5.56mm NATO rounds, along with the G36K, SCAR-L, and Patriot Assault Rifle. It is gas operated and has a rotating bolt system. Barrel length is 370 mm in length which gives the carbine a large appealing look. The M4A1 can use magazines carrying 30 to 50 rounds, including the 100 round drum.
Gallery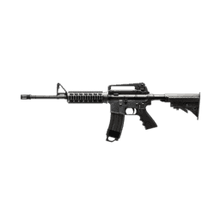 Ad blocker interference detected!
Wikia is a free-to-use site that makes money from advertising. We have a modified experience for viewers using ad blockers

Wikia is not accessible if you've made further modifications. Remove the custom ad blocker rule(s) and the page will load as expected.