ANNOUNCEMENT: ALL THE GUNS IN APOCALYPSE RISING ARE CURRENTLY BEING REMADE. AFTER THEY ARE REMADE AND PUT IN THE GAME, THESE STATS WILL BE INACCURATE!
The G18 is an automatic military pistol in Apocalypse Rising. It uses 9mm rounds from 17 or or 32 round magazines. It has a grey slide with white and black accents, a black rubber handle, and deep navy blue accents along the bottom of the gun.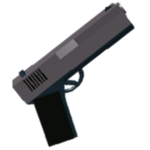 Location
The G18 can be found in the usual military loot spawn areas, such as barricades, tents, and even fire houses, but it can spawn in civilian buildings. Its ammo is somewhat common around these areas, though the extended magazines are rare.
Attachments
The G18 can use the 9mm Suppressor, the Flashlight, and the Laser Sight. The Flashlight and Laser Sight appear different when used on the G18. It cannot use any sights.
Review
The G18 is a powerful handgun. It can unload a ridiculous amount of rounds into an enemy at close range, and it is quiet. The ammo is easy enough to come by, and 32 round magazines can save a huge amount of space if you can find them.
Versus zombies, you will want to make sure the weapon is set to semi-auto, because you can accidently waste a magazine on a single zombie if you panic, and that's never good. The better choice would be to use a melee weapon and save your ammo.
In PvP, the G18 is best used for CQC scenarios. In tight quarters, the G18 outclasses assault rifles and battle rifles, which is the most common weapon of bandits and players who stand a threat against you. It is recommended to use extended mags with player encounters, however, as they may be using pain killers.
Trivia
The G18 shares magazines with the M9 and the M93R.
It has incredibly low recoil, and yet does not have a stock.
In real life, the G18 has a switch at the back of the gun, allowing it to switch fire modes.
Beta-C company has produced magazines types that can allow ordinary weapons to have 100 round magazines. In game, it is available for 5.56 x 45mm weapons only. But they made magazines for 7.62 x 51mm weapons and even 9 x 19mm weapons. One of the weapons that can have a 100 round capacity is the Glock 9mm G17 and the G18. Imagine that! A G18 with 100 rounds, still with fully automatic capability. Such a weapon would be nearly unstoppable at short range, if used appropriately.
Gallery
Ad blocker interference detected!
Wikia is a free-to-use site that makes money from advertising. We have a modified experience for viewers using ad blockers

Wikia is not accessible if you've made further modifications. Remove the custom ad blocker rule(s) and the page will load as expected.